Cribs
2007.09.07 01:54
From the Patek Philippe Magazine, Volume II Number 7 (photos & cutlines from the BBC Website)
| | |
| --- | --- |
| | In 1948 photographer Keld Helmer-Petersen published a book entitled 122 Colour Photographs which established his reputation as an artist. Subsequently his work became central to modernist Danish design and architecture. |


Martin Parr: When did you start taking pictures?
Keld Helmer-Petersen: My mother gave me a Leica in 1938. I threw away the first roll of film, thinking, "I've got the prints, what do I need the negatives for?" I was that unfamiliar with photography! I only really became interested about a year later. I started entering photographs in amateur competitions, and they looked different from the other entries – and the subject matter was different.
MP: When you changed from black and white to color, did you start taking different types of pictures?
KH-P: Absolutely. It must have been about 1941. I realized it was a terribly different thing I was doing. You have to think of color as form, whereas in black and white photography you think in terms of light and shadow, lightness levels, contrasts, and so on. It encouraged me to work two-dimensionally, so I started picking out details of warm walls, architectural subjects, etc. I liked to pick nice two-dimensional things, that stress the importance of color.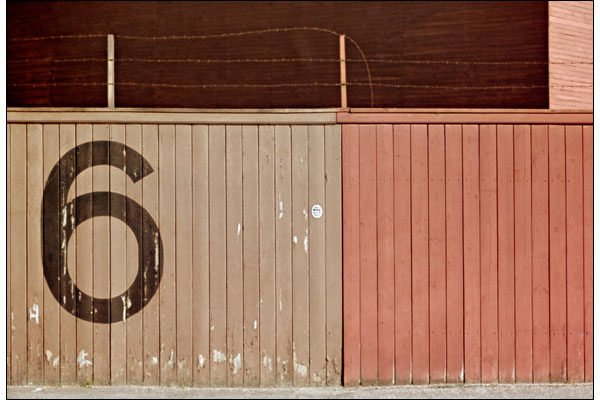 Following the publications of his book he worked for a brief time for Life Magazine before returning to Copenhagen to concentrate on his architectural photography.


MP: At the time, were you aware that color photography was frowned upon as something for the amateur and the commercial market?
KH-P: Not at all. I didn't distinguish, really.
MP: And these photographs you'd accumulated in the mid-forties, did you show them to anyone?
KH-P: Oh, yes. At that time I worked in a bookshop. I showed these pictures to the book dealer and he said, "I think you have something special. Why don't you make a book out of them?"
MP: You printed 1,500 copies. Can you remember how many you sold at the time?
KH-P: Not at all. I didn't expect to. But them the publisher knew a young Dane who worked in the publishing trade in New York, and he sent the book to him. He showed it to the Life editor Wilson Hicks, who immediately took a liking to the pictures – just like you so many years later – and published six or seven pages of them in Life magazine. Then I started looking at the possibility of going to the States. I got a grant from the American-Scandinavian Foundation that enabled me to travel to New York, get in touch with Life magazine, do some assignments for them – and then go on to Chicago. That was my real aim, to study under [respected photographer] Harry Callaghan. But I'd never set foot in a darkroom, so it was a bit of a hazard. I was too old to join with the regular students, so they asked me to do evening classes. That was really tricky, because I didn't know nearly as much as some of the other students. I didn't even know how to use a tripod!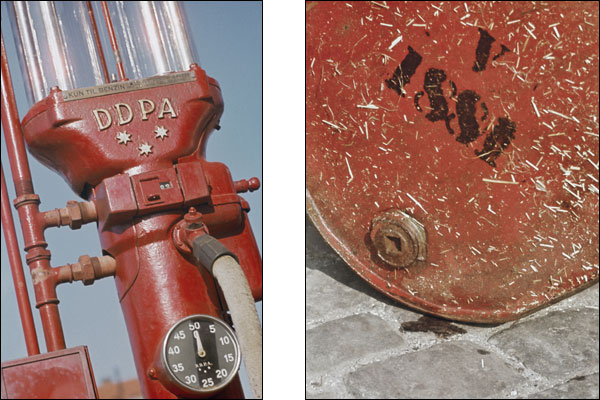 Photographer Martin Parr says "Helmer-Petersen had been taking images of details of ordinary life since 1940, using his Leica and Agfa Colour film. These deceptively simple images were really ahead of their time."


MP: Why did you come back to Denmark?
KH-P: My family was still in Denmark. I didn't want my two boys to be American. Also I think I would prefer to be number one in Denmark than number ten or twelve in America [laughs].
MP: So you came back and you built a very successful career as a commercial photographer in Denmark?
KH-P: Yes. I met architects very early on. This was important. In 1954 I met the furniture designer Poul Kjaerhlm, who was a young man and a very promising talent. I wanted to have a show of my work, experimental stuff, the Chicago silhouettes, and I asked him to design the show for me. He came up with a beautiful cardboard model of the space to show me. And he had painted it black and white, so I had white pictures on the black and dark pictures on the white.
MP: That sounds very funky.
KH-P: It was beautiful. I still think it was one of the best shows we've ever had in Denmark. We became friends. I started working for him. I photographed all his furniture for him for many, many years.
Today his work is held by a number of institutions including the Museum of Modern Art in New York and his contribution to the development of colour photography is now being recognised by the art world.


MP: When you went back to Copenhagen, you continued doing your own work, but then you moved to black and white. Why was that?
KH-P: Black and white came out of Chicago. There wasn't very much color really – it was gray, like the outskirts of London. Then you had this fantastic number of fire escapes, water towers, wires all over the place, bridges, elevated railroads going through the city. Looking up, there'd be patches of light, wonderful patterns. There was always a bleak white sky in Chicago, pollution, of course. There was no problem getting contrast. So using contrasting fine-grain film and developing it, and printing on contrasting paper, you got something that immediately had to be black and white. Chicago, the fantastic skyline, that absolutely triggered me off — and ended up as the book Fragments of a City.


MP: How do you feel about the renewed interest in your work?
KH-P: A little bit embarrassed, to be quite frank. At the same time I can't help being pleased. At my age it's encouraging to be rediscovered. At the same time it's a bit awkward for me in many respects, because I have to think in a commercial way, which I haven't really had to before.
MP: Yes. But you had a little commercial digression!
KH-P: Oh, yes. But I never mix the two. People will be wondering, now that I'm publishing a new big volume retrospective of my work, why don't I include my architectural work. I say no, that's professional, that's something different. I want to show my creative work, where my personality comes in.